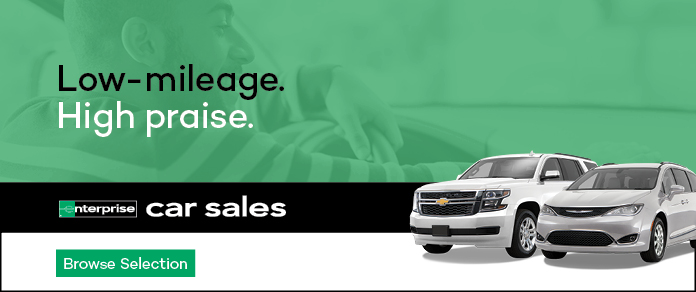 October 1-31, 2020
Receive 1.00%APR off the current rate*1 AND Kelly Blue Book trade-in value*2
 Preview the selection of vehicles and find the Enterprise Car Sales location nearest you.
Enterprise Car Sales offers no-haggle pricing on more than 7,000 used cars which makes it easier to shop online or at one of their car lots. You will be pleased with the friendly sales approach that puts your needs first.
You'll never have to haggle about prices and you'll always get the Kelley Blue Book Value for your trade-in – guaranteed.
*Based on nationwide inventory, available by visiting enterprisecarsales.com. Delivery of vehicles outside local area may require transfer fee. Based on internal data, 75% of vehicles available for sale are 1-3 year-old model vehicles.
1: APR=Annual Percentage Rate. 1.00% off current rate. This rate offer is discounted 0.50% by Central Jersey Federal Credit Union and discounted 0.50% by Enterprise Car Sales. This rate offer is valid for all terms up to 60 months. Current rate will vary based on credit worthiness & terms. Financing for qualified Central Jersey Federal Credit Union members. Offer valid only on Enterprise Car Sales vehicles purchased 10/01/2020–10/31/2020. No cash advances. Offer cannot be combined. Not valid on previous purchases.
2: Kelley Blue Book Trade-In Values used by Enterprise are obtained from © 2020 Kelley Blue Book Co.'s website KBB.com. Kelley Blue Book Trade-In Value is based on accurate condition rating & mileage of vehicle. Accurately appraising the condition of the vehicle is an important aspect of determining its Kelley Blue Book Trade-In Value. Kelley Blue Book valuation adjustments for vehicle mileage disproportionate to the age of the vehicle may be capped by Enterprise Car Sales at 20% of the vehicle's base value. If a Kelley Blue Book Trade-In value is not available for customer's vehicle Enterprise will provide a fair & competitive value for customer's vehicle. Customer is responsible to any extent vehicle pay-off exceeds Enterprise offer. Customer must provide required proof of ownership/registration and all other necessary paperwork to transfer title. Restrictions apply. See a Sales Consultant for details. Offer void where prohibited. Used vehicles were previously part of the Enterprise rental fleet &/or an affiliated company's lease fleet or purchased by Enterprise from sources including auto auctions, customer trade-ins or from other sources, with a possible previous use including rental, lease, transportation network company or other use. Photo for illustration only. The "e" logo & Enterprise are trademarks of Enterprise Holdings, Inc. All other trademarks are the property of their respective owners. © 2020 Enterprise Car Sales.