The New CJFCU Visa Platinum Credit Card is HERE!
Our new Visa Platinum card comes with amazing cardholder benefits including: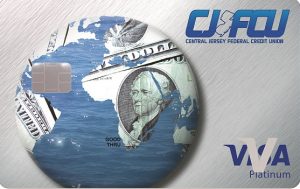 • Higher Credit Limits (up to $20,000 with credit approval)
• The ability to skip your July and August credit card payments* to allow you to enjoy your summer!
• A low introductory rate of 5.99% APR** for the first six (6) months on Balance Transfers.
Why wait! Apply today!

*Credit Card cannot be over the limit or delinquent to be eligible for the summer skip-a-pay. If the credit card account is eligible for skip-a-pay the monthly statement will have a zero amount due for July and August. Interest will continue to accrue on the outstanding balance during the months skipped. Any automatic payments or transfers must be stopped by the member. This includes auto pay on GTMC.com, monthly transfer set up on home banking or distribution set up with the credit union.
**APR means annual percentage rate. The rate shown is an introductory rate that only remains in effect for six months. Upon the expiration of the introductory rate the APR will be between 9.99% -18% based on your credit. Loans are only available to credit union members. Membership in the credit union requires an initial deposit of five dollars. Subject to credit approval additional limitations, terms and conditions apply you will be given further information when you apply."